SEO – In the world of 'DARK ARTS' to us it's a 'PIECE OF CAKE'
We believe that SEO should be first and foremost in any company's digital marketing strategy; it enables you to have a sustainable marketing channel which you have the power to dictate – in other words you are not governed by the increasing costs of paid search or risk of being outspent by a rival.
Ever wondered how the web pages at the top of the search results get there? It's because they were search engine optimised (SEO). Exactly how search engines work is a closely guarded secret but the main principles are known –think of it as a cake recipe with 400 ingredients – throw 400 ingredients together in any order and you might get a cake, it might not rise or taste very nice though… However, follow the recipe, add the right ingredients in the right order and you get the perfect cake, perfectly risen!
Getting your website ranking organically is key for business growth; and getting onto page 1 can be a game changer. After all what do you do when you want to find something on the internet? You search for it! Then you click on one of the links on the first page of the search results. In-fact 93% of visitors will behave in exactly the same way.
A lot of clients believe that SEO is some kind of Dark Art? Every day we speak with clients who have had their fingers burnt (and wallets emptied) by so called 'SEO specialists' with their smoke and mirrors approach – they get a tasteless slice of expensive cake.
Each search engine has its own algorithm, split into many areas. However, looking at this from a broad perspective, search engine algorithms operate on three main algorithmic factors when deciding on where to position a website in its SERPs (Search Engine Result Pages).
These are;
CONTENT, and what keywords are in your page content
LINKS from other websites
RELEVANCY to the search enquiry
Your chances for a better ranking grow when your website contains the same words that are being searched. Keywords are especially effective when they are found in a website title, address or headings. However, its quality over quantity. Some, so called, SEO experts try to fool the search engines with some ridiculous keyword occurrence instead of focusing on quality content first.
Websites that link to yours basically tell search engines that you have some good stuff there. But again, quality over quantity. Links from irrelevant sites won't help you achieve a better rank, in fact poor links (or black links) can actually penalize your site..
What we've just talked about provides a basic introduction to SEO – in reality it's not a simple task and you'll definitely need someone to help you with it – like us! We help identify the right keywords, write friendly site code and figure out the best linking tactics to deliver your business page 1 rankings and increase quality organic traffic.
An example of one of the many stages we go through when working on a clients SEO – no smoke no mirrors !

1
Example of cross comparison between the usage of  keywords (marked in green line chart) and competitors (various colours) on the density and frequency of keywords used for a certain search phrase
2
Our aim is to ensure the green line is roughly in line with the green bar chart of the graph for each keyword, as this is the average density across all of the sites on the first page of Google
3
This process is called 'term frequency inverse document frequency',  it's a calculation to determine how important a word is in a document compared against a collection of documents.
What would we expect to achieve?
Most companies have a website, but the web is a huge place and it's growing every day – search engines basically allow you to find customers and resolve their queries. If you are not in the top positions for the right search terms then its hard for potential customers to find you – or worse, they find your competition first.
If you can get to page 1 position 1 listing you will receive about 380 visitors to your site from every 1000 people searching; However at position 10 on page 1 this drops to about 30.
Unlike what some of the "Dark Art" SEO specialists might tell you, there are no shortcuts to improve rankings! Our team are experts and have been studying Google's organic search algorithm for over 10 years and are still learning every day as Google are forever amending these algorithms – but get it right and your business can change – for example, we have a client who has seen their website traffic increase by over 2400% since we got them onto page 1 of the search.
Firstly, we get to know your brand, your audience, your market and competition; then we create a strategy (the recipe) to deliver the results.
Then while you focus on your business, we'll make sure that your website has the technical foundations to deliver you traffic and enquiries/sales – delivering transparent results to agreed targets. We will use our expertise to closely monitor your competitors, identify trends and pinpoint the search terms your target audience are using. We then use this 'wisdom' to give the search engines exactly what they need to make you visible and drive leads.
Search Engine Optimisation is a long-term strategy. No-one can promise or guarantee you first page rankings on Google. With over 200 algorithmic factors, in which each of those include 100+ variations, no-one truly knows the full ins and outs of the equation behind the system.
 We would expect to see a positive rise in rankings within 4 month at the minimum. Googles Sandbox and Penguin algorithms put a firm stop on websites ranking quickly. Websites selling fake handbags and watches manipulated the search engines algorithm to their advantage, ranking websites within 1–2 weeks. Therefore, to resolve this, Google had to apply a blanket system to stop all websites from ranking quickly, otherwise there would be no way of telling a legitimate website from a fake one.
 We have a unique approach to your SEO. We give complete transparency through our on-line real-time reporting tool which we link to Google Analytics; you can see what we are working on, when we are working on it, and why. You get to see the good (mostly), the bad and the indifferent. There are no fictional reports full of made up stats. Everything we show you comes direct from Google themselves and we apply the strategic thinking to make those all important gains.
In summary –
we will increase visitors to your site
we will improve your organic rankings
you will see what we are doing on your site and to make it rank
you will see new leads, opportunities and referrals.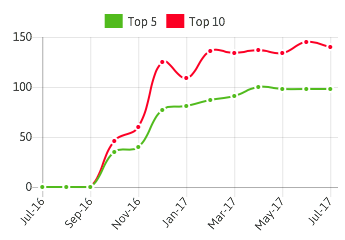 SEO with Vault-MCM – a piece of cake ! !